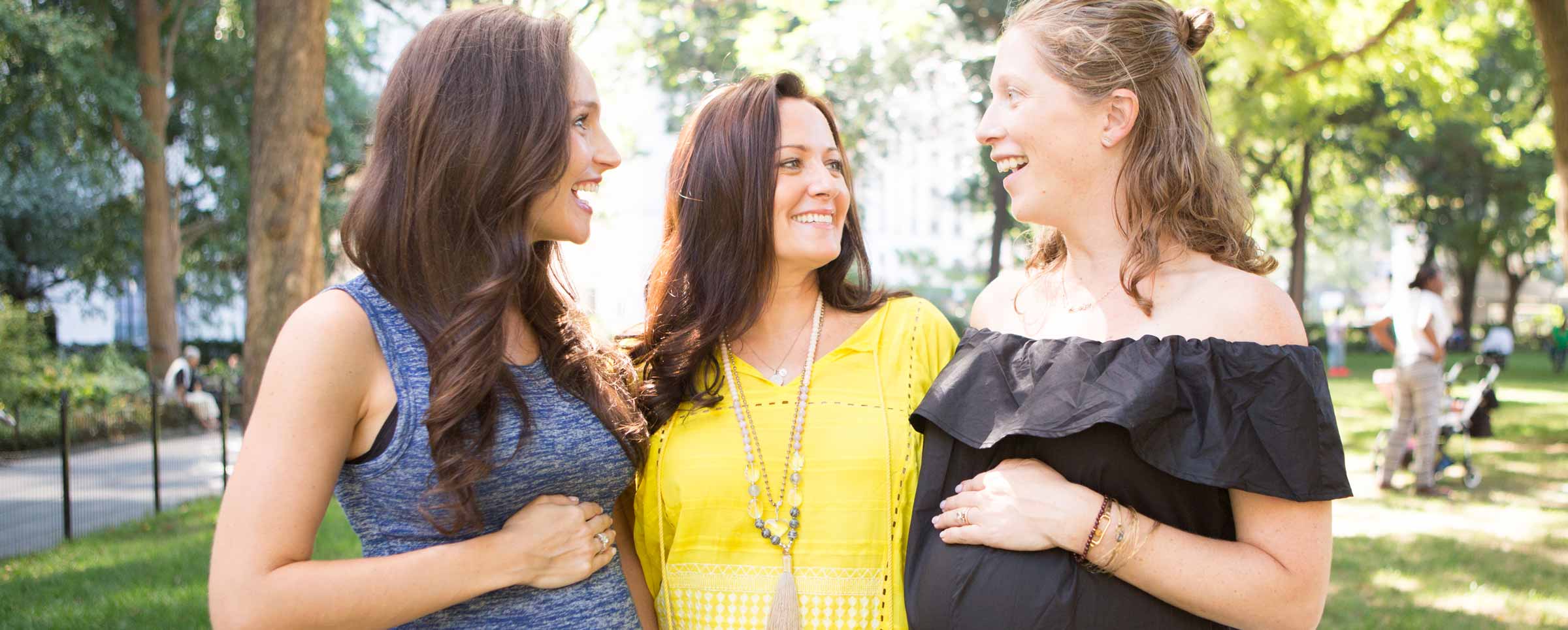 Wellness & Fertility Acupuncture Centers Manhattan, Nyack NY & Westport CT
Online Fertility Coaching Programs
About Aimee
Aimee Raupp, MS, LAc, is a renowned women's health & fertility expert, celebrity acupuncturist & coach, and the best- selling author of the books Chill Out & Get Healthy (2009), Yes, You Can Get Pregnant (2014), Body Belief (2018), and The Egg Quality Diet: A clinically proven 100-day fertility diet to balance hormones, reduce inflammation, improve egg quality & optimize your ability to get & stay pregnant (June 2021). Aimee works virtually with clients all over the world, as well she is a licensed acupuncturist and herbalist in private practice in New York and Connecticut.  Aimee holds a Master of Science degree in Traditional Oriental Medicine from the Pacific College of Oriental Medicine and a Bachelor's degree in biology from Rutgers University. She is also the founder of the Aimee Raupp Beauty line of hand-crafted, organic skincare products that are optimized for hormone harmony. Over the years Aimee has grown and mentored her team of fertility coaches and acupuncturists to serve more women on their path to motherhood. She has appeared on The View, and has been featured in Glamour, Allure, Well + Good, Mind  Body Green, GOOP, Shape, and many podcasts including Wellness Mama, The Melissa Ambrosini Show, and Tune into Wellness with Dr. Frank Lipman. Aimee has received endorsements from Deepak Chopra, Hannah Bronfman, Arianna Huffington, and Gabrielle Bernstein for her work in helping thousands of women to improve their fertility, celebrate their beauty, and reconnect to the presence of their optimal health. Aimee is also on the Scientific Advisory Board for THE WELL in NYC, and is a frequent speaker at women's health & wellness conferences across the nation. She engages her large community worldwide through her social media presence, online programs, and her website, www.aimeeraupp.com. To learn more about working with Aimee and her team of fertility coaches and acupuncturists, email info@aimeeraupp.com
Fertility Acupuncture NYC – Fertility Coach
Wellness Centers
Office Locations
Manhattan
928 Broadway (between 21st and 22nd)
Suite 1001
New York, NY 10010
Nyack, NY
15 North Broadway Second Floor
Nyack, NY 10960
Westport, CT
225 Main Street
Westport, CT 06880
To book an appointment at one of our Wellness & Fertility Acupuncture Centers, please email us at info@aimeeraupp.com
Acupuncture – Manhattan NY
A crucial element of Traditional Chinese Medicine is acupuncture which is used to treat various illnesses and chronic pains. It has become increasingly common to improve overall health and well-being.
Acupuncture can only be performed by licensed professionals who know specific points under the skin where tiny needles are inserted to stimulate nerves, connective tissue, and muscles. This stimulation causes the body's natural antibodies and painkillers to start working, resulting in relief from pain, stress, and anxiety.
The human body consists of over 2000 acupuncture that is interconnected by meridians or pathways. Traditional Chinese Medicine believes that a flow of energy known as Qi is created by these pathways and channels. This flow of energy is responsible for the overall well-being of an individual. Any interruption or blockage in the flow of energy can result in disease or deficiency. It is believed that by doing acupuncture on particular points, one can boost Qi flow and hence improve one's health.
Medical Conditions Treated via Acupuncture
Acupuncture needles stimulate the nervous system, which releases chemicals into the brain, spinal cord, and muscles as a result. These metabolic alterations can activate the body's inherent capacity for healing and foster both physical and psychological well-being.
Acupuncture is most frequently used to treat conditions including depression, addiction, nausea, and chronic pain. However, acupuncture is now being used to treat many other problems, including fertility issues and postpartum depression, and helps reduce fine lines and wrinkles as well.
Let's look at the several acupuncture services that are offered at Aimee Raupp's clinic in New York.
Fertility Acupuncture
When it comes to helping people with fertility issues, even reproductive experts are turning to the relatively enigmatic world of Chinese Medicine.
Acupuncture is found to treat infertility by:
Reducing stress and anxiety
Regulating hormones
Increasing blood circulation in the reproductive organs
Fertility Coaching Acupuncture For PCOS
Acupuncture has also been found effective in treating women with PCOs. Acupuncture helps to regulate the menstrual cycle, stimulate ovulation, balance hormone levels, reduce the number of ovarian cysts, and lower sympathetic nerve activity.
Acupuncture For Endometriosis
Acupuncture has proven to effectively treat endometriosis in recent studies, which affects over 1 in 10 women worldwide. The effectiveness of electrical acupuncture along with western medications for endometriosis has been reviewed by Chinese researchers. They discovered that both techniques reduced discomfort as well as cured the root cause of endometriosis.
Acupuncture For Miscarriage
Apart from miscarriages caused by genetic diseases, acupuncture can be highly helpful in preventing and treating the underlying causes of miscarriages.
Due to its positive impacts on prolactin levels and serum cortisol during IVF, acupuncture could potentially be a viable supporting treatment for threatening or recurrent pregnancy loss.
Acupuncture For Autoimmune Diseases
Even after years of research, Western Medicine has remained unsuccessful in finding a cure to treat autoimmune diseases. TCM, on the other hand, has been successful in treating autoimmune diseases by turning back the immune system's receptivity to "triggers." acupuncture slows or stops the development of autoimmune diseases in several patients.
Acupuncture For Poor Ovarian Reserve
While it is common for older women to have a poor ovarian reserve, it is not entirely necessary, as several young women also go through this problem. The goal of Traditional Chinese Medicine for women with POR is to boost blood circulation to the ovaries, which increases responsiveness to activation by the pituitary gland and lowers FSH. Our Manhattan acupuncture is also known to improve egg quality and enhance the chances of pregnancy.
Acupuncture For Male Fertility
Acupuncture and TCM have been used for centuries to treat reproductive problems in both men and women. Acupuncture and Chinese herbs have proven successful in boosting sperm count and motility, enhancing morphology, and removing infections to boost male fertility.
Acupuncture For Painful Periods
Chinese medicines and acupuncture are effective treatments for cramp relief and cycle regulation. It works effectively in treating the root cause of the pain, and pain relief last longer.
Acupuncture For Amenorrhea
Acupuncture is very effective in treating amenorrhea. It may not induce periods but helps regulate them, eventually bringing back a person's cycle.
Acupuncture For Ovarian Cysts
Ovarian cysts are viewed as an accumulation of stasis and dampness in the pelvic area in TCM and can be effectively treated with acupuncture and Chinese herbs. The development of such cysts can be slowed down by regulating hormones and increasing fluid and blood circulation in the pelvic region.
Acupuncture For Thyroid Disorders
The imbalance of Yin and Yang in the body causes thyroid problems in the body, according to TCM. Acupuncture and Chinese herbs effectively cure both hypothyroid and hyperthyroid.
Acupuncture For Menopause
Many women may experience irritation or problems coping with these changes due to the wide range of symptoms that can appear at any point before, during, and after menopause. Traditional Chinese Medicine offers extremely efficient, hormone-free relief from pain related to all symptoms and stages of menopause.
Facial Rejuvenation Acupuncture
Acupuncture successfully reduces all signs of aging from the face, including discoloration, fine lines, wrinkles, facial sagging, and puffiness. It also addresses the causes that speed up signs of aging, including stress and anxiety.
Acupuncture For Headaches
Headaches are also effectively addressed by acupuncture as it activates the immune and circulatory systems, thus relieving tension and chronic headaches.
Acupuncture For Migraines
Acupuncture in Manhattan not only effectively treats migraines but also cures them without any side effects by turning on the natural pain killers inside the brain.
Acupuncture For Anxiety
Acupuncture effectively treats anxiety by promoting the natural feel-good endorphins of the body and decreasing the stress hormone levels like cortisol while having fewer negative impacts than medicines normally have.
Acupuncture For Depression
Depression is treated via acupuncture in which the needles are subjected to a weak electric current and resulting in positive results for not only elevating the symptoms of depression but also curing the disease.
Acupuncture For Insomnia
Acupuncture is known to treat not only insomnia but several other sleep disorders resulting in improved sleeping patterns, longer sleeping hours, and sleep efficiency.
Acupuncture For Gastrointestinal Disorders
acupuncture has regularly been used to manage different GIDs all over the world and has also shown other positive benefits to the gastrointestinal system.
Acupuncture For Pregnancy
Acupuncture is used for various pregnancy-related issues, including reduced nausea, heartburn, backaches, digestive problems, diabetes, stress, and many others. It is also effective in providing easy labor by ensuring blood circulation in the uterus and optimal baby position, guaranteeing a smooth delivery process.
Acupuncture For Postpartum
Acupuncture also helps women during postpartum by balancing hormones, maintaining appropriate milk production, reducing postnatal depression, and restoring the body's natural equilibrium.
Book an Appointment with Aimee Raupp Today!
Aimee Raupp was inspired by her own personal journey and dedicated her life to providing women in Manhattan and world-wide with the best traditional health care by learning the art of Traditional Chinese Medicine. She is accredited for Acupuncture and Oriental Medicine by the National Certification Commission and has a license issued to administer TCM herbology and acupuncture by the State of New York; and has successfully treated fertility issues, depression, anxiety, and many other illnesses.
She uses the mind-body-nutrition strategy to cure sickness and preserve long-term health. Book an appointment today by emailing info@aimeeraupp.com or join the waitlist for Aimee's renowned online fertility course now!